German Amateur-Radio-Club - Local Club Düsseldorf, R01
Welcome to our website! We are a subdivision of Deutscher Amateur-Radio-Club e.V. (DARC), which is over 36,500 members strong. As part of in the district North Rhine (R), our club number ("DOK") is R01. Currently, we have almost 90 members and guest members.
---
The club runs two stations: The club station DL0DX and the 70 cm voice repeater DB0SJ.
You sometimes may find some members of R01 on two frequencies: 145.475 MHz (simplex) and 438.800 MHz (shift: -7.6 MHz).
Club meeting
The club meeting is on every third Thursday of the month. Guests are welcome here.
The next local club's meeting is on December 21, 2017 at 7:00 pm.
---
The latest events
---
Visit to a testing laboratory at CETECOM
Usually there are no visits by outsiders at the Düsseldorf site, but the company CETECOM invited us to inspect their test lab in Düsseldorf in the afternoon of April 21, 2017. CETECOM is a globally operating company, which primarily offers testing services in the communications industry.
Because the members of R01 Düsseldorf did not cover all of the available participants, some members of the neighboring local clubs, R09 Neandertal, R12 Ratingen and R22 Düsseldorf-Lohausen, also had the opportunity to follow the invitation. Thus 15 persons met to listened to the extraordinarily interesting and lively performance of Peter (DL2EAM) and Volker. Practical examples were presented to the participants in the broad field of activity of the company and the test laboratory, in which products with integrated radio technologies are tested (and occasionally destroyed) before launching the market. Comprehensible to all, the intermittent interference emissions of an LCD TV were measured and a DVD player was tormented with voltage spikes from the power supply of more than 1000 volts and voltage strikes in the kilovolt range on the equipment housing. All these are tests that a device must pass before sale.
In about two and a half hours, the employees reported on typical experiences with electronics suppliers and, most of all, about outstanding impressions of the past years. In the buidling coffee and cold drinks were ready, and in relaxed atmosphere some participants tested, how much radio reception their mobile phone still indicated in the HF-dense test room.
One of the participants summed up: "They both did very well, and I realized very quickly: They know what they are talking about. Anyone who did not take part in this tour missed something!" - A big thank to CETECOM for the hospitality and the granted insights.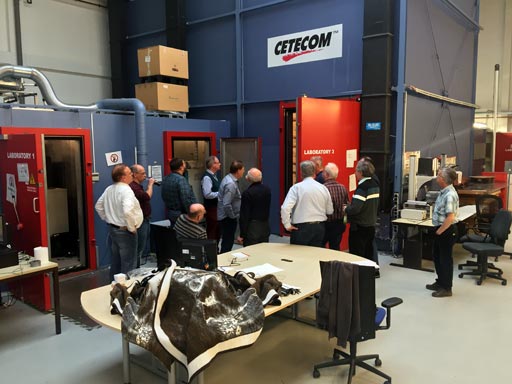 Interested glances in the CETECOM test lab in Düsseldorf. (Picture: Andreas, DC4AB)
---
Notice to privacy
This site gives a session cookie to your browser while you are visiting this page. The cookie contains a session number and will be removed by your browser, as soon as the browser will be closed. There will no person related data saved.