German Amateur-Radio-Club - Local Club Düsseldorf, R01
Welcome to our website! We are a subdivision of Deutscher Amateur-Radio-Club e.V. (DARC), which is over 34,000 members strong. As part of in the district North Rhine (R), our club number ("DOK") is R01. Currently, we have good 80 members and guest members.
---
The club runs the following stations: The club station DL0DX, the 70 cm voice repeater DB0SJ and the 70 cm multimode repeater DB0DUX including a Hamnet user entry at 5 GHz.
Coronavirus: Meeting at the club station and local club evenings not possible
At the moment, the current corona protection regulation does not allow meetings at the club station on Sundays. Also the upcoming local club evenings are cancelled. Instead we meet at video chat.
Corona virus: No kale meal 2020
Due to the increased number of corona infections, our traditional kale meal cannot take place this year. To avoid misunderstandings, the club meeting in December is cancelled.
Club meeting
The club meeting is on every third Thursday of the month. Guests are welcome here.
The next local club's meeting is on February 18, 2021 at 8:00 pm.
---
Video chat room
During the corona time (especially when no meeting at the club station is possible), a special video chat room is set up by R01. This room is also available for use outside the regular meeting times.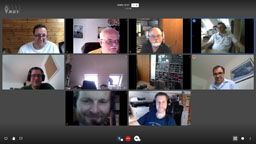 The latest events
---
Presentation about the preparation of the WRTC 2018
During the Local Club Evening on April 19, 2018, Holger (DL5KUT) gave a presentation about the preparations of the WRTC 2018 (World Radio Team Championship), a 24-hour amateur radio competition that takes place every four years and will be held this year from July 14 to 15, 2018 in Wittenberg in the northeast of Germany. Holger showed two presentations and gave an insight behind the scenes with some photos.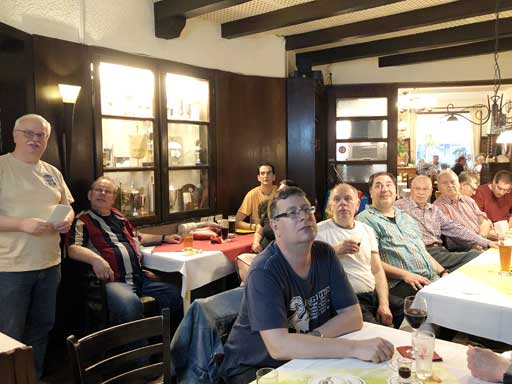 Holger (DL5KUT) (left) at his lecture. (Picture: Andreas, DC4AB)
---
Notice to privacy
This site gives a session cookie to your browser while you are visiting this page. The cookie contains a session number and will be removed by your browser, as soon as the browser will be closed. There will no person related data saved.
The web server in Germany, which delivers this page, logs your IP address and the user agent your browser sends each time you visit the page for a period of 14 days. The legal basis is article 6 paragraph 1 letter f of the General Data Protection Regulation (GDPR). The DGPR grants you rights (information, correction, blocking or deletion, opposition, complaint).