German Amateur-Radio-Club - Local Club Düsseldorf, R01
Welcome to our website! We are a subdivision of Deutscher Amateur-Radio-Club e.V. (DARC), which is over 36,500 members strong. As part of in the district North Rhine (R), our club number ("DOK") is R01. Currently, we have almost 90 members and guest members.
---
The club runs two stations: The club station DL0DX and the 70 cm voice repeater DB0SJ.
You sometimes may find some members of R01 on two frequencies: 145.475 MHz (simplex) and 438.800 MHz (shift: -7.6 MHz).
Club meeting
The club meeting is on every third Thursday of the month. Guests are welcome here.
The next local club's meeting is on May 17, 2018 at 8:00 pm.
---
The latest events
---
Kale meal 2017
This year, 34 people followed the invitation to the traditional kale dinner during the local clubs evening on December 21, 2017. In addition to many members of R01, as well as their relatives and friends, there were also members from the neighboring local clubs, for example from R04 Hilden, R09 Neandertal, R12 Neuss, R22 Dusseldorf-Lohausen and R24 Haan. Although the planned extension of the restaurant this year was completed, but due to a missing acceptance of the fire department it was not yet possible to use it. That's how it got cozy. The very tasty kale with meatballs, mettwurst and slices of smoked pork chop tasted excellent again.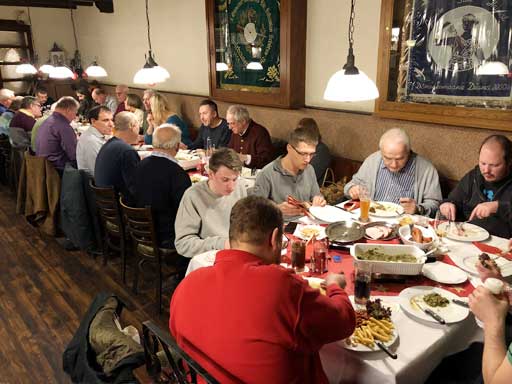 Despite the delicious meal, the conversation continued. (Picture: Andreas, DC4AB)
After the meal, the participants took the opportunity to exchange ideas with each other. Finally, the chairman was allowed to distribute a practical cloth bag with a homemade 'DARC R01' print for everyone as a small present.
---
Notice to privacy
This site gives a session cookie to your browser while you are visiting this page. The cookie contains a session number and will be removed by your browser, as soon as the browser will be closed. There will no person related data saved.